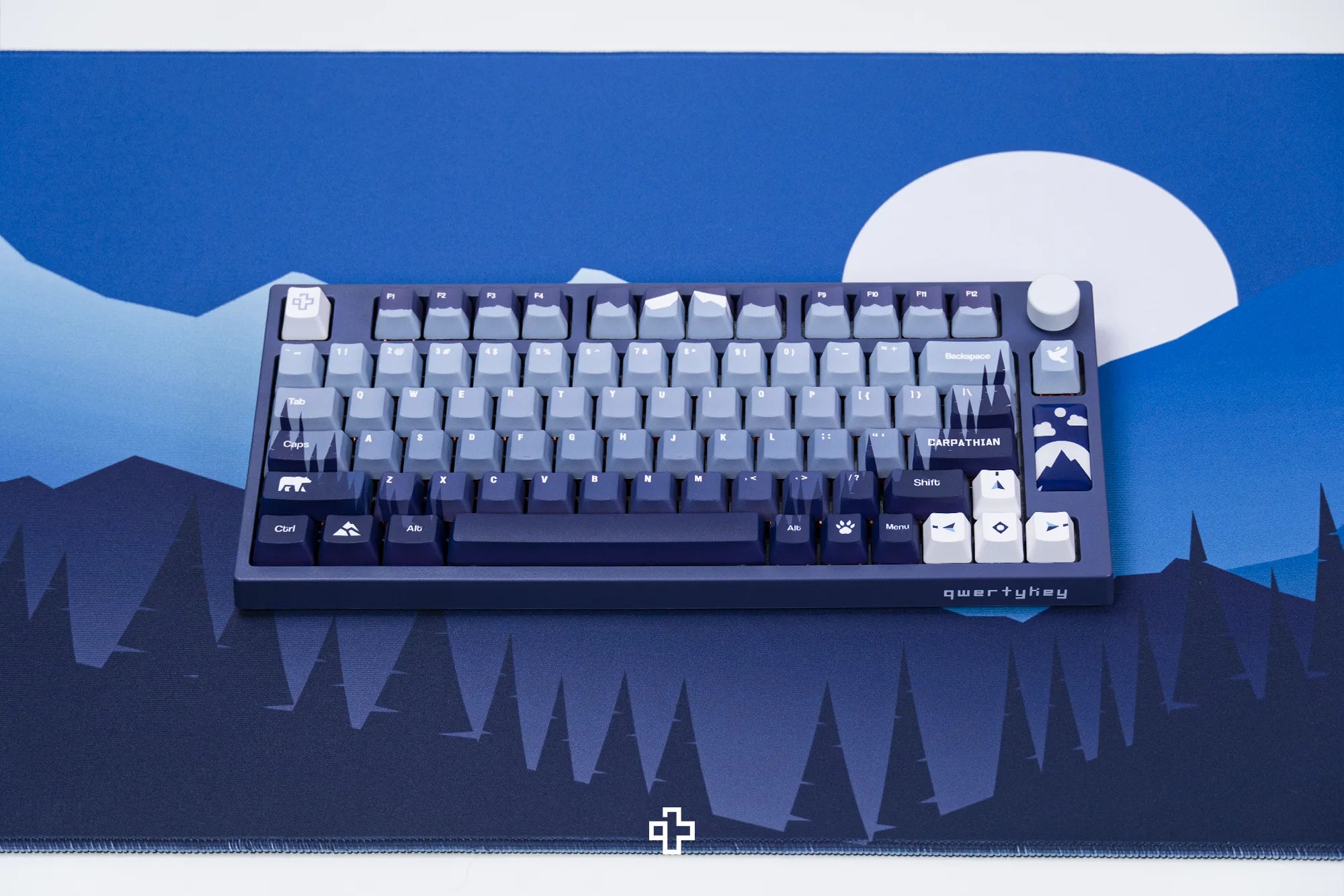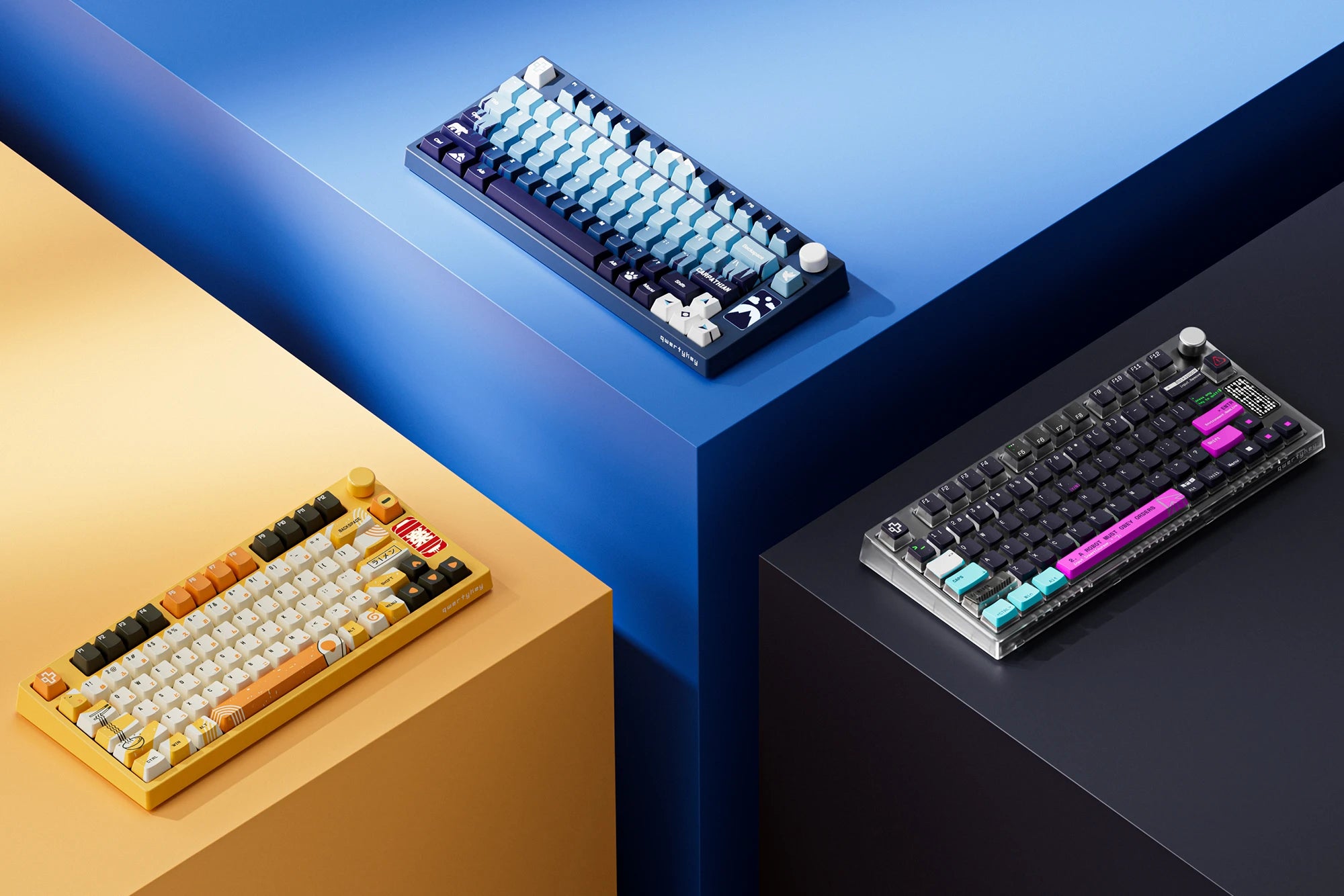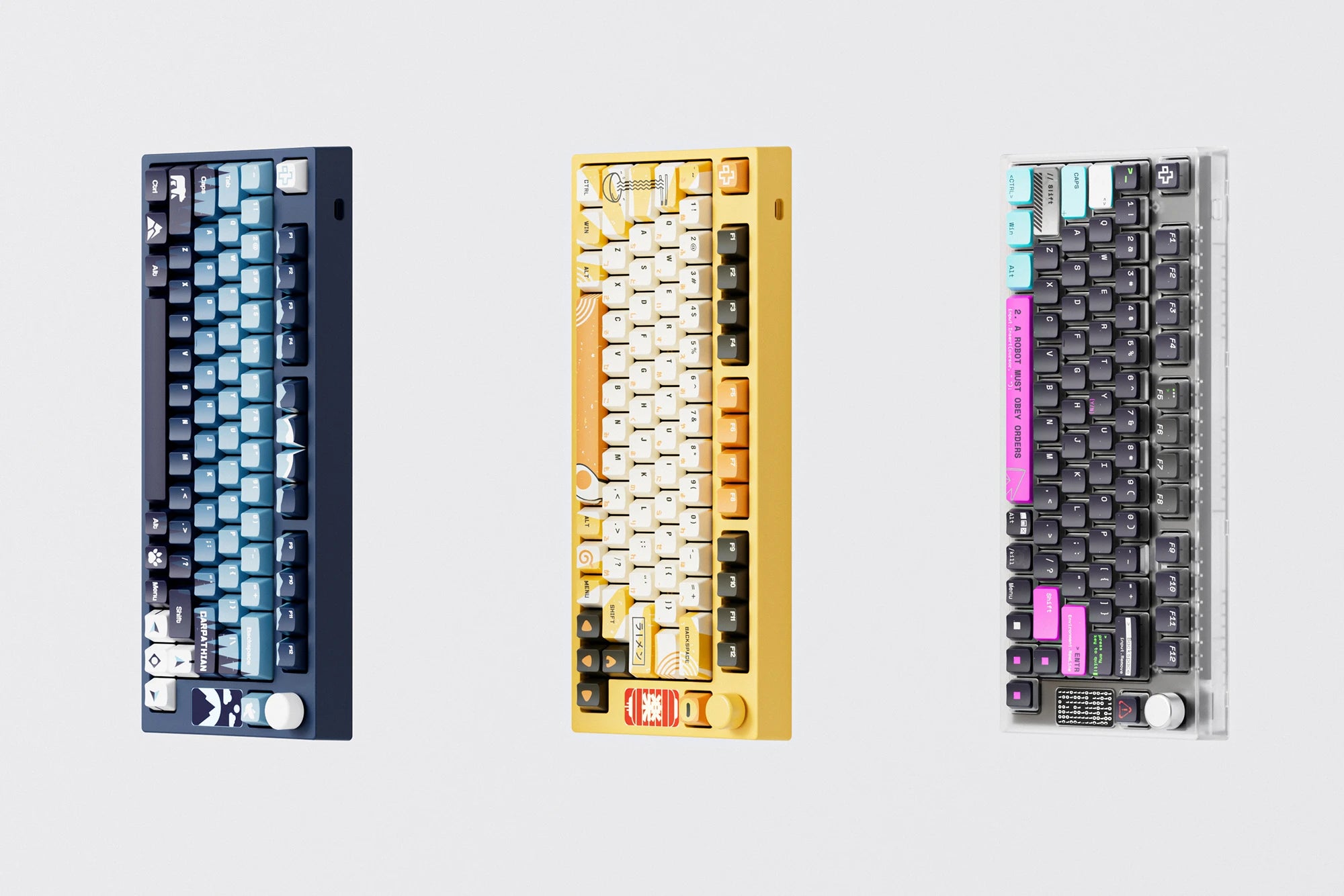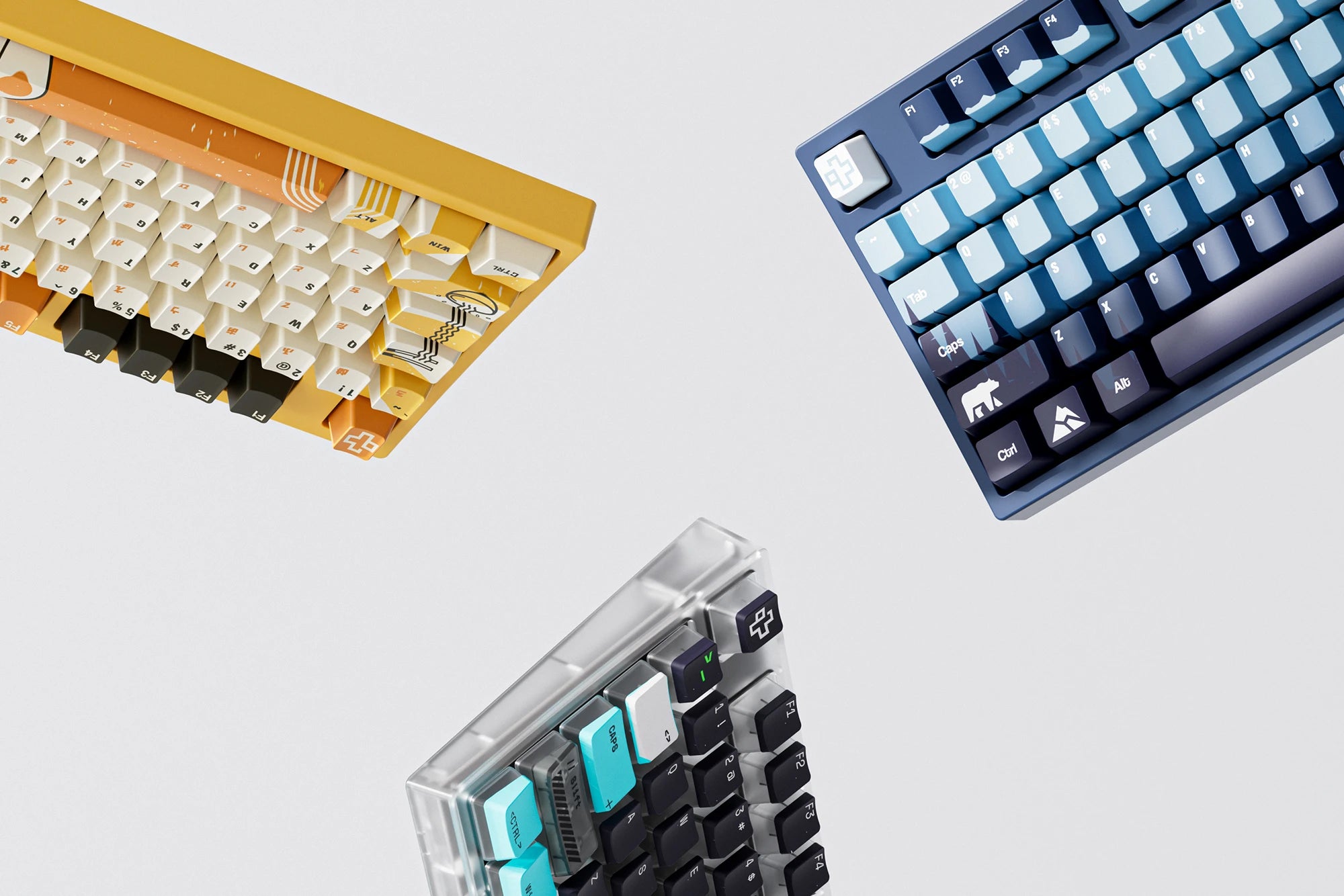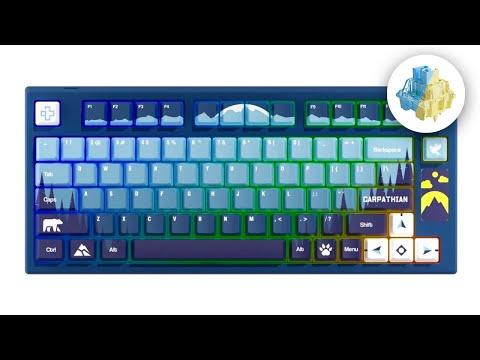 QwertyKey75 Carpathian Bluetooth Wireless Hotswap RGB Gasket Mounted Mechanical Gaming Keyboard
---
Tastatura QwertyKey75 Carpathian Bluetooth Wireless Hotswap RGB Gasket Mounted are caracteristici cheie:
Three Unique Variants: Terminal, Carpathian si Ramen

 

with

 

unique PBT DYE Sub keycap design for a memorable experience.
Bluetooth/Wireless:

 

Bluetooth 5.1 and dongle wireless connection, powered by a 4000mAh rechargeable battery.
Hotswap:

 

Ability to swap standard switches with any 3 or 5 pin switch.
Prelubricated Stabilizers:

 

For a pleasant and quiet sound.
Polycarbonate boards:

 

For a smoother typing experience.
RGB Complet:

 

RGB lighting with 22 customizable modes.
Good Acoustics Straight Out of the Box:

 

Contains 2 layers of EVA foam for improved acoustics.
Pre-lubricated switches:

 

Switches are prelubricated with Krytox 205 and Krytox 105.
Programmable Knob:

 

The button can be programmed to your preferences via the personal QwertyKey75 software.
Software:

 

Dedicated RGB and macro customization software
QWERTYKEY 75 TERMINAL.
Mountain tones in the high blue, the "Carpathian" keyboard reflects the spirit of the Carpathians with every keystroke. The sharp mountain silhouettes engraved on the function keys echo like nature in the heart of modern technology.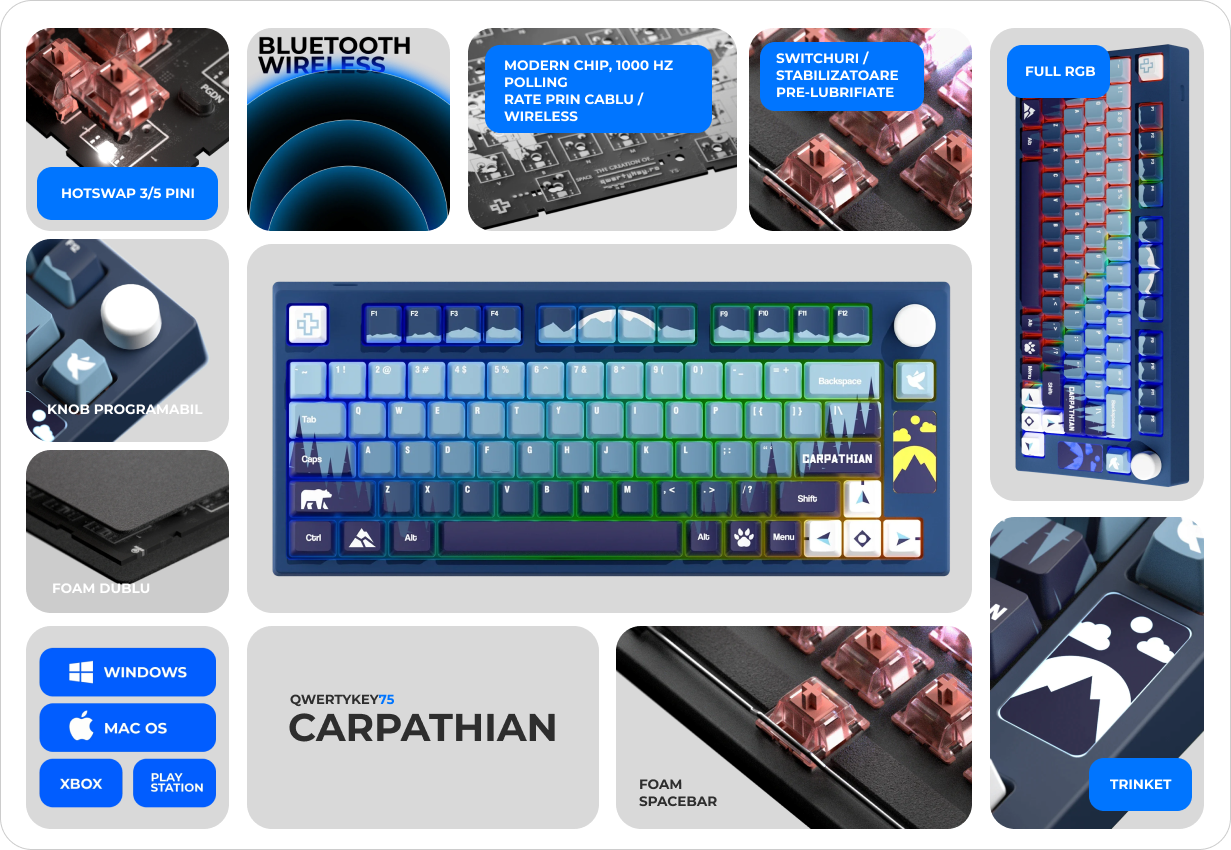 TOP FEATURES.
Fully enjoy the latest features when it comes to mechanical keyboards!
3 UNIQUE VARIANTS.
The QwertyKey team worked for more than 9 months on this project. These 3 keyboards with Unique Design of PBT DYE Sub Keycaps, will give users an unforgettable experience, both the unboxing experience and the experience of using them.
BLUETOOTH / WIRELESS.
QwertyKey75 now with Bluetooth 5.1, Wirless with dongle through the powerful 4000 Mah rechargeable battery. Enjoy your favorite activities remotely, without cables!
HOTSWAP.
You can swap out the stock switches with any 3 or 5 pin switch for the sound you want. Whether you want something louder, whether you want something silent, easy or hard to press, you can change everything according to your preferences.
PRE-LUBRICATED STABILIZERS.
Pre-lubricated stabilizers for a more pleasant and quiet sound.
POLYCARBONATE PLATES.
Polycarbonate stock plates for a softer writing experience.
FULL RGB.
Full RGB lighting with 22 customizable lighting modes from the keyboard software.