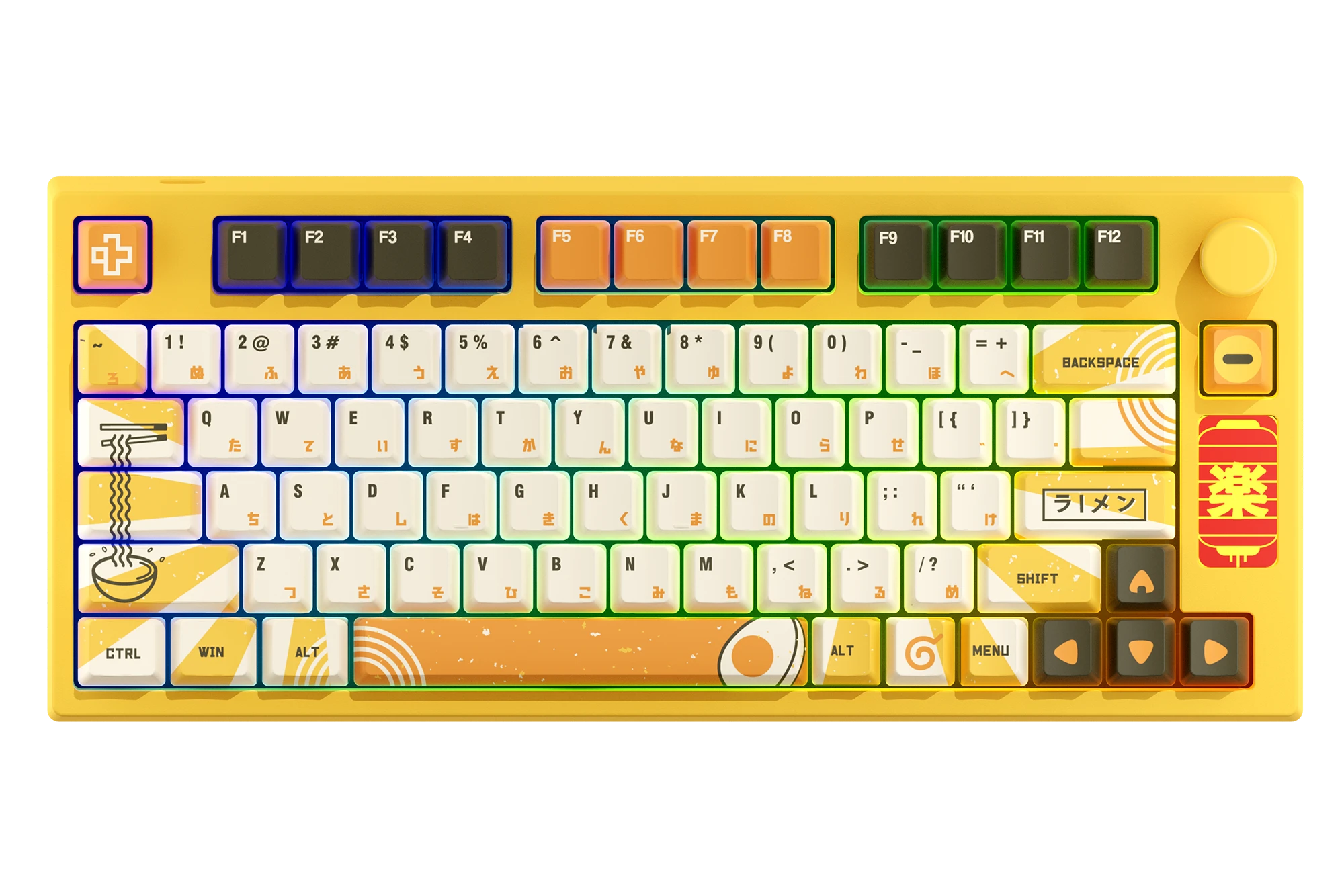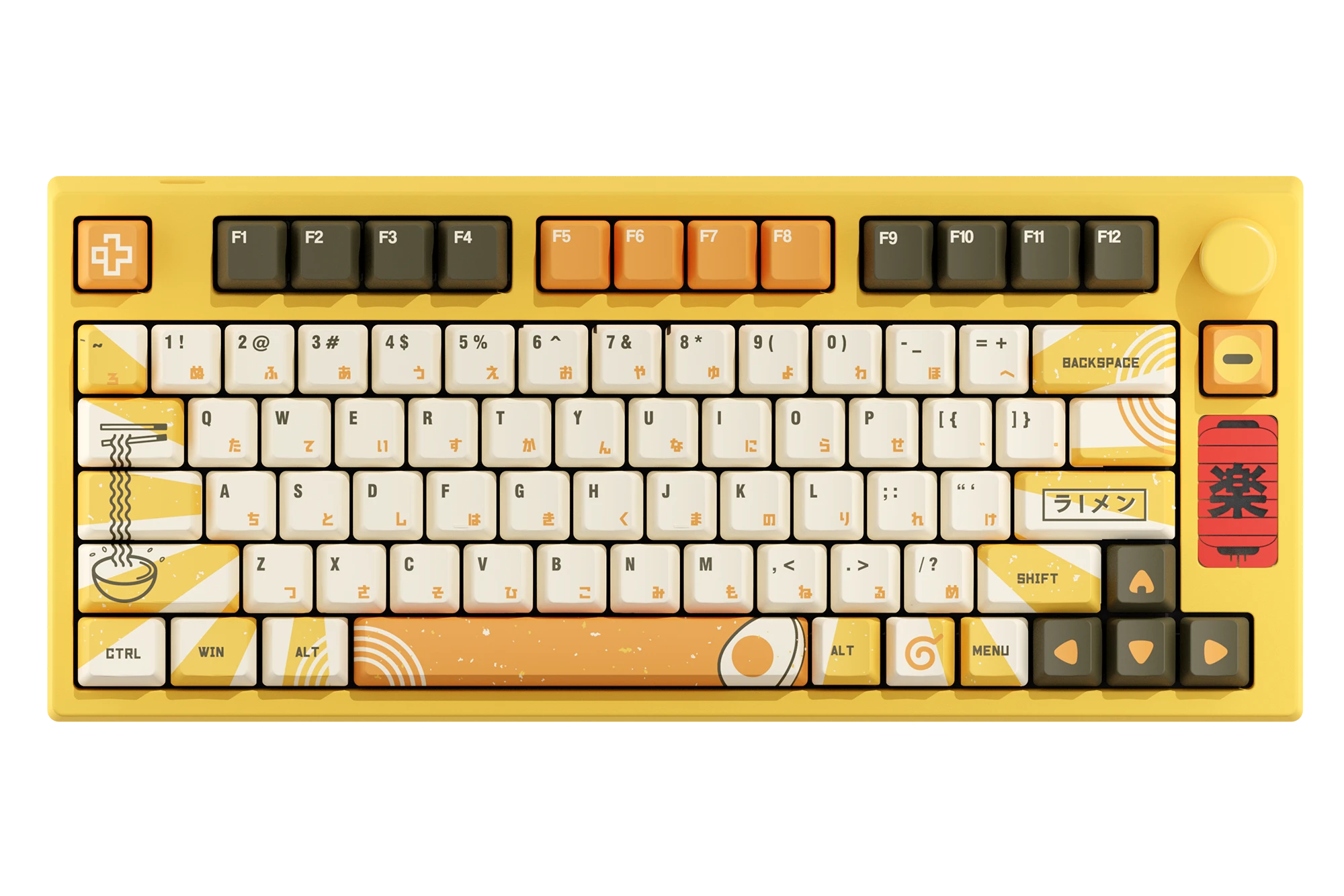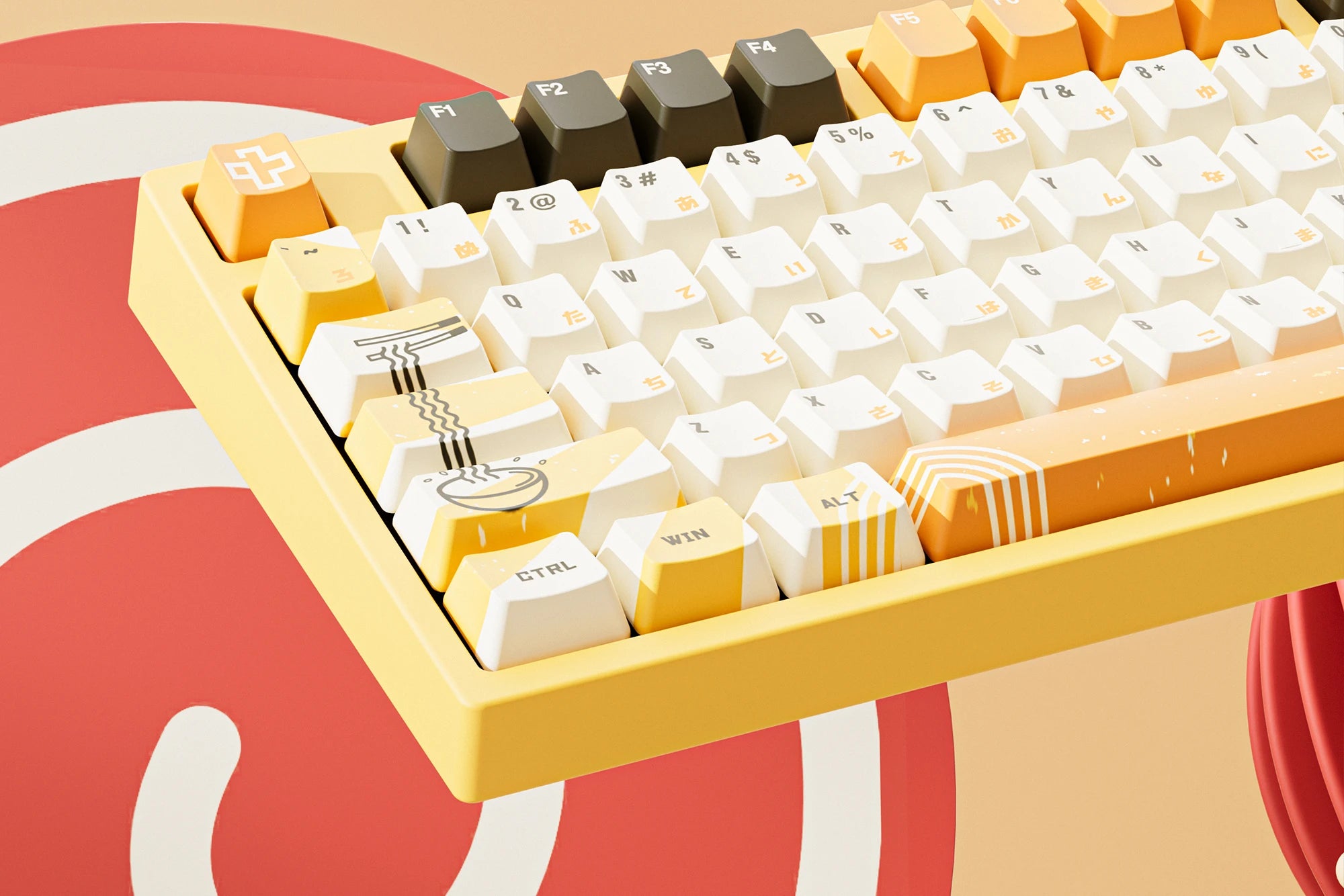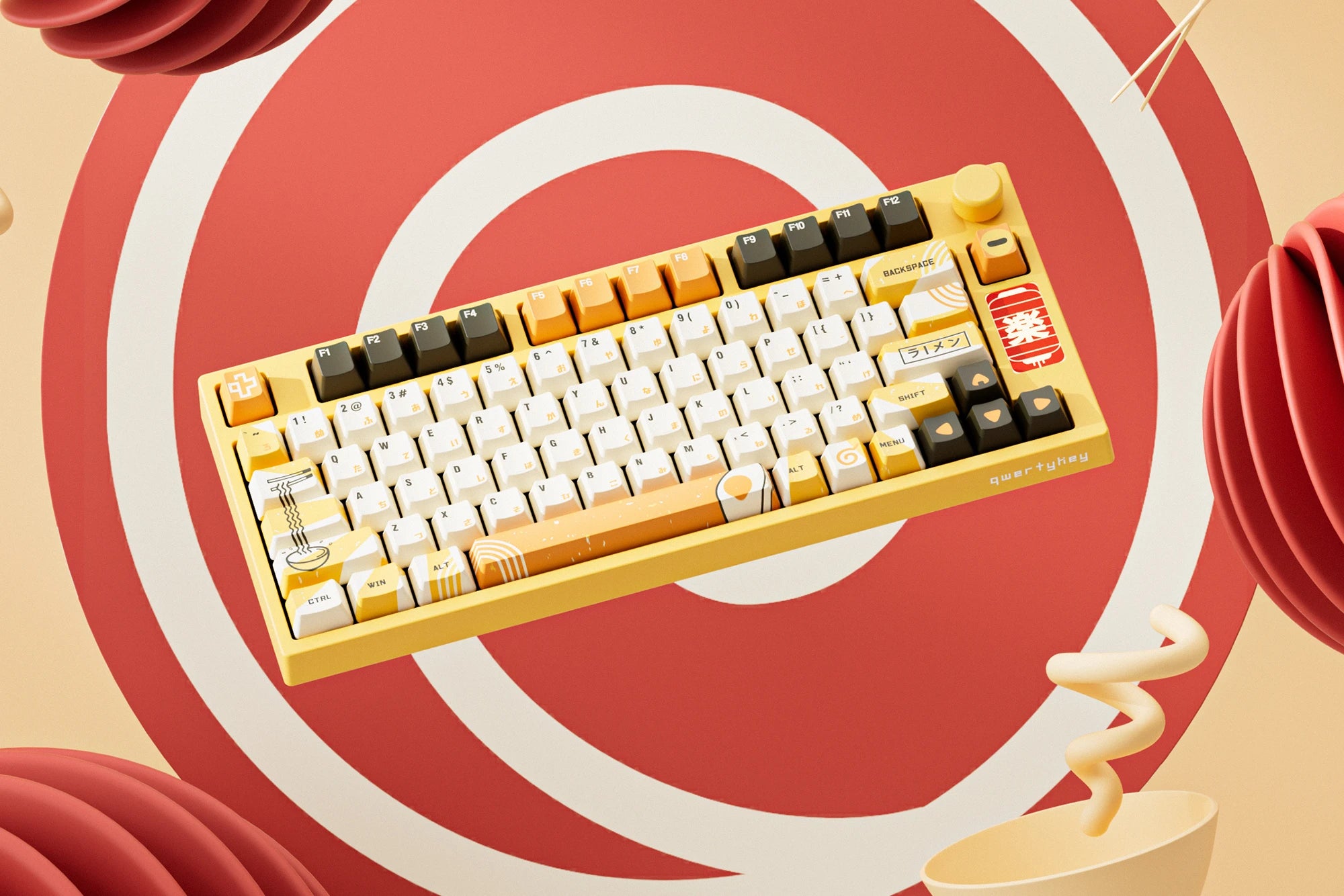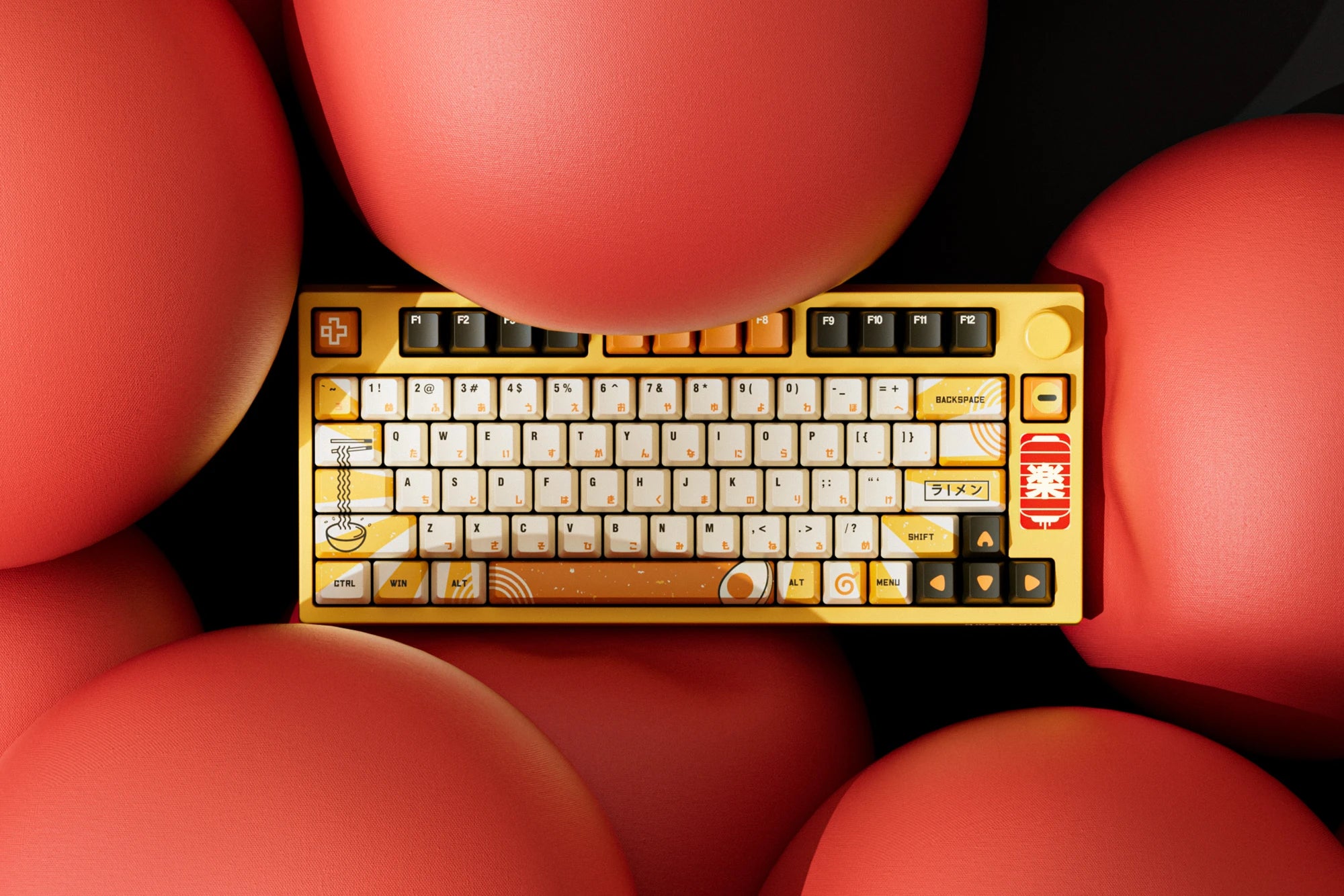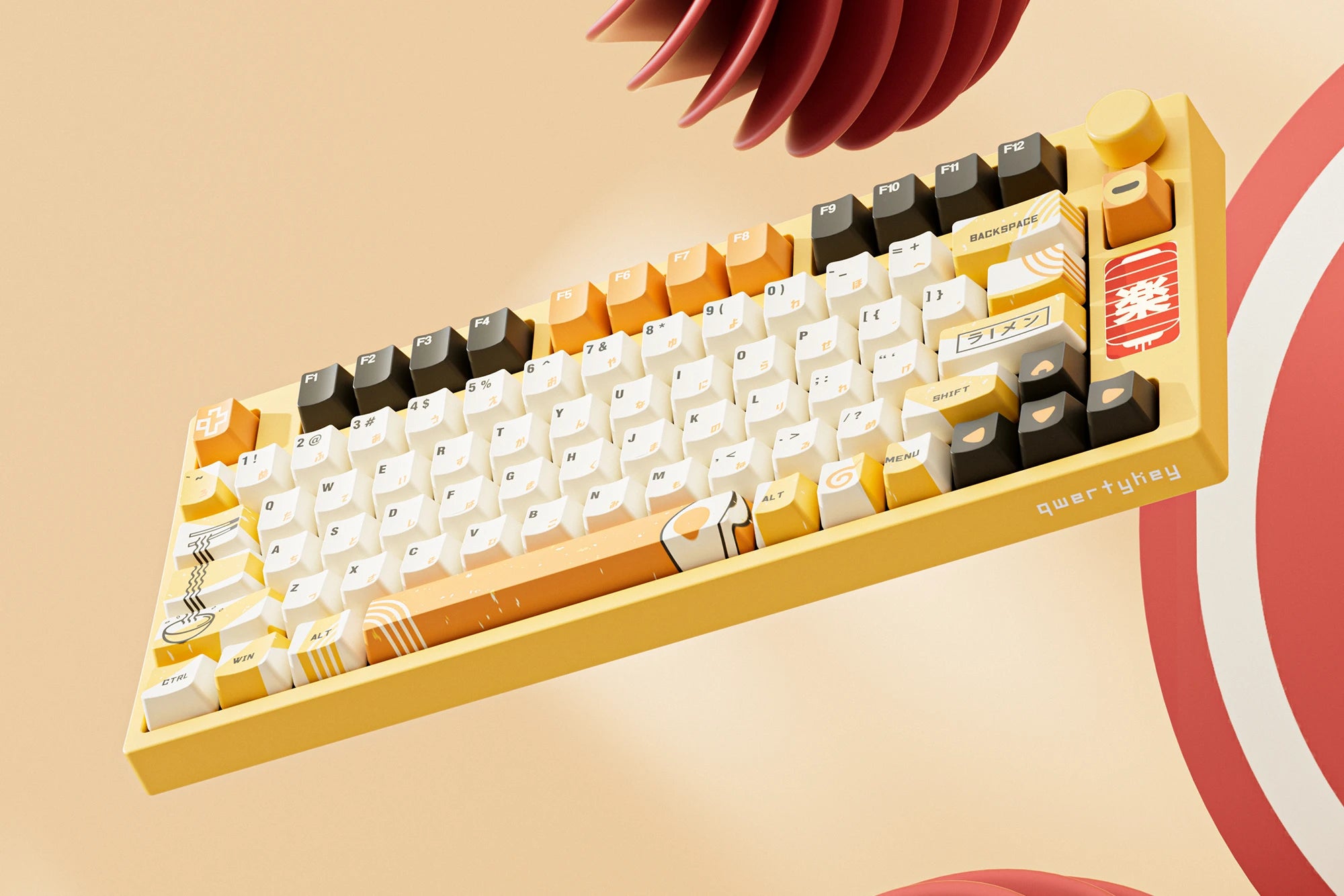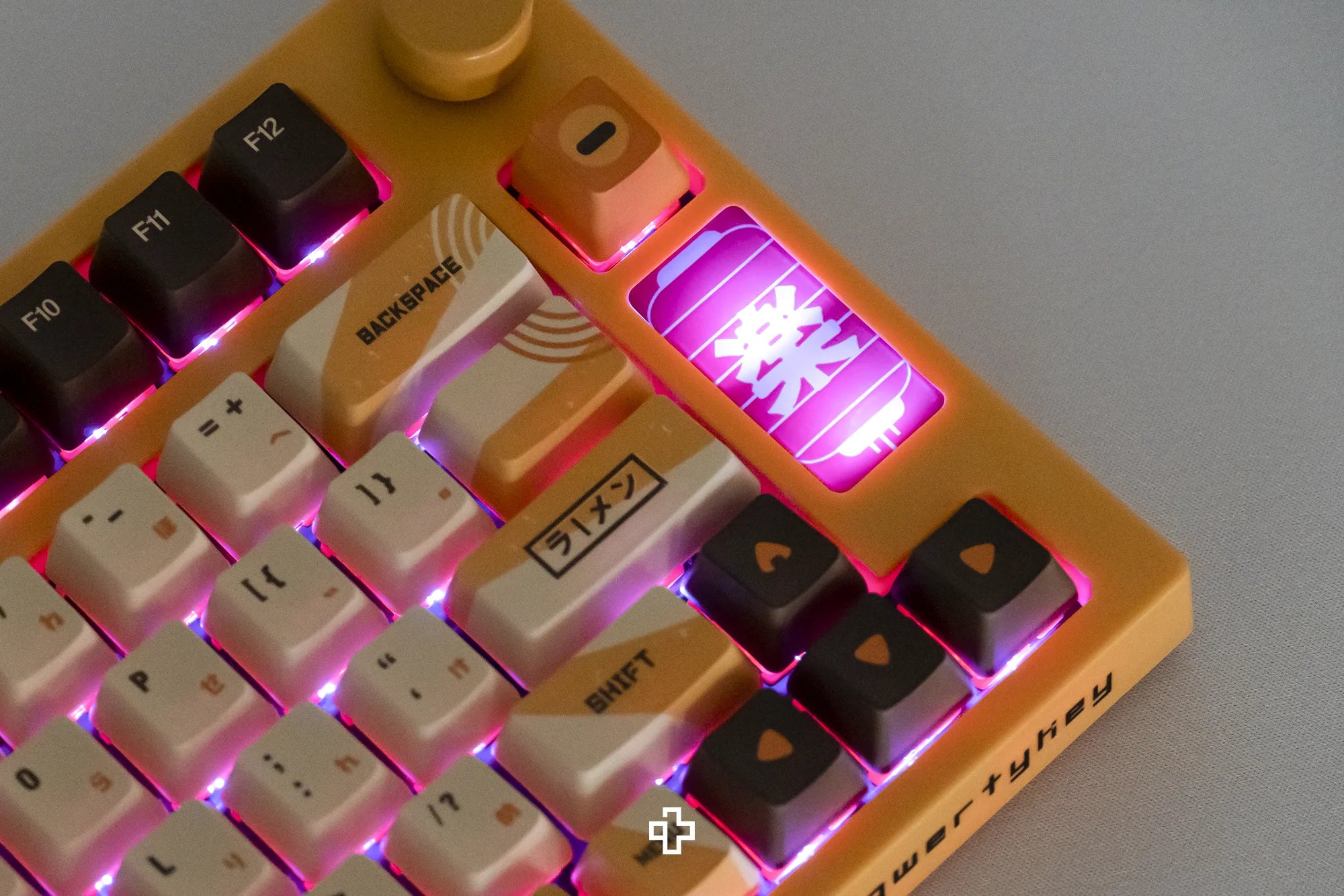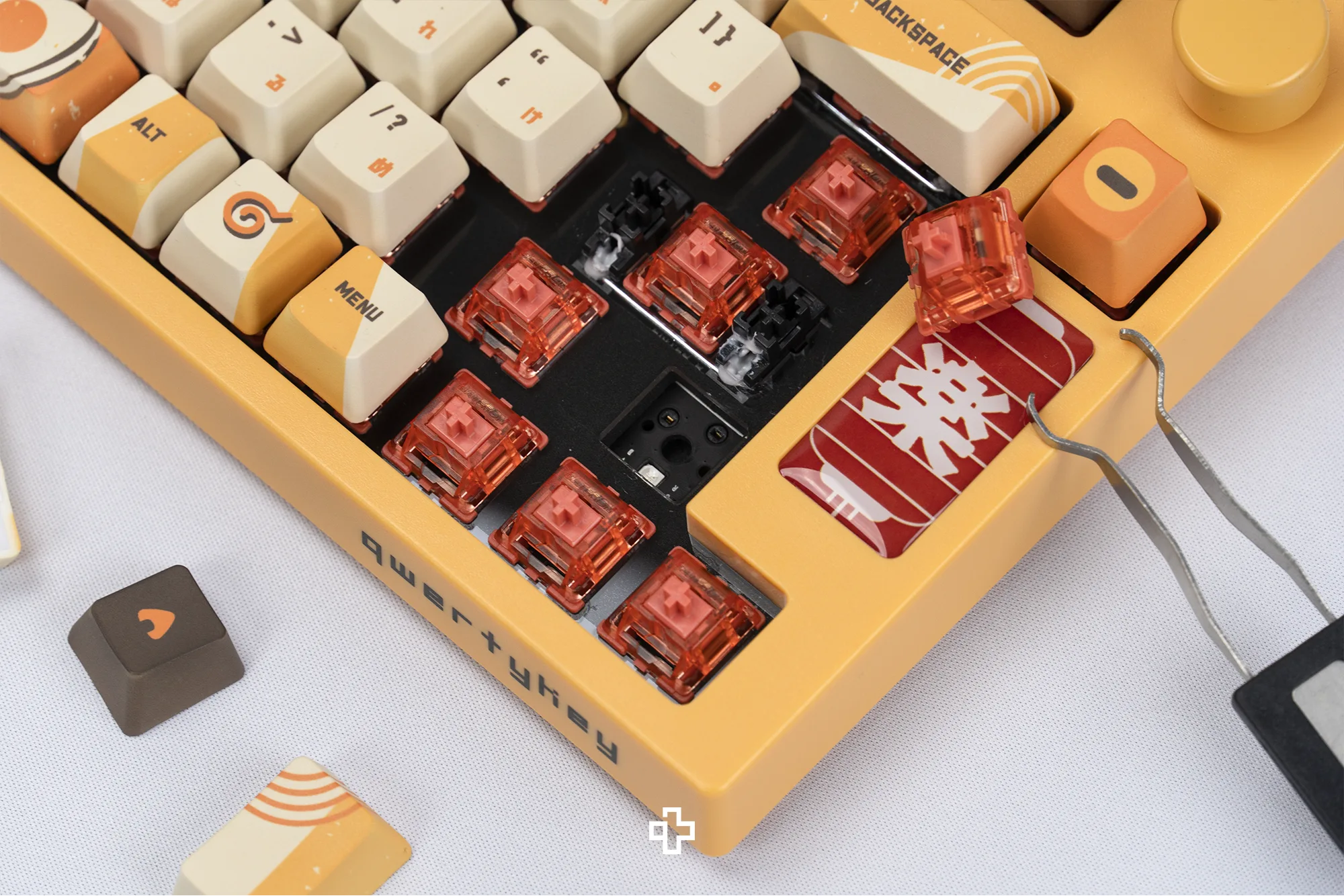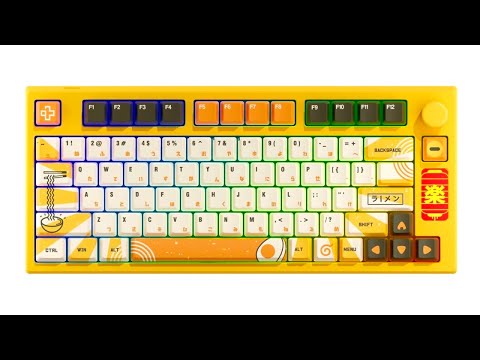 QwertyKey75 Ramen Bluetooth Wireless Hotswap RGB Gasket Mounted Mechanical Gaming Keyboard
---
Tastatura QwertyKey75 Ramen Bluetooth Wireless Hotswap RGB Gasket Mounted are caracteristici cheie:
Three Unique Variants: Terminal, Carpathian si Ramen

 

with

 

unique PBT DYE Sub keycap design for a memorable experience.
Bluetooth/Wireless:

 

Bluetooth 5.1 and dongle wireless connection, powered by a 4000mAh rechargeable battery.
Hotswap:

 

Ability to swap standard switches with any 3 or 5 pin switch.
Prelubricated Stabilizers:

 

For a pleasant and quiet sound.
Polycarbonate boards:

 

For a smoother typing experience.
RGB Complet:

 

RGB lighting with 22 customizable modes.
Good Acoustics Straight Out of the Box:

 

Contains 2 layers of EVA foam for improved acoustics.
Pre-lubricated switches:

 

Switches are prelubricated with Krytox 205 and Krytox 105.
Programmable Knob:

 

The button can be programmed to your preferences via the personal QwertyKey75 software.
Software:

 

Dedicated RGB and macro customization software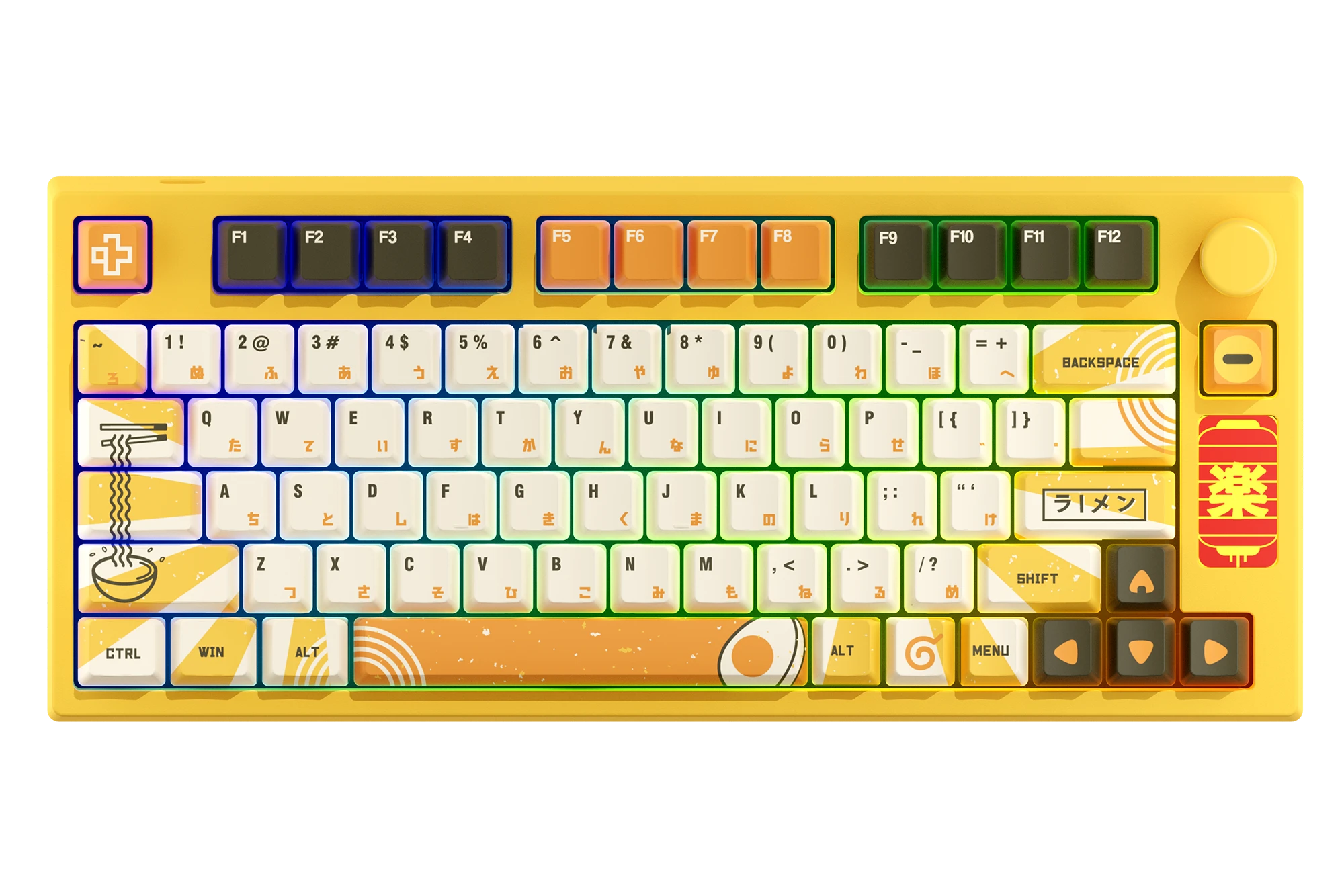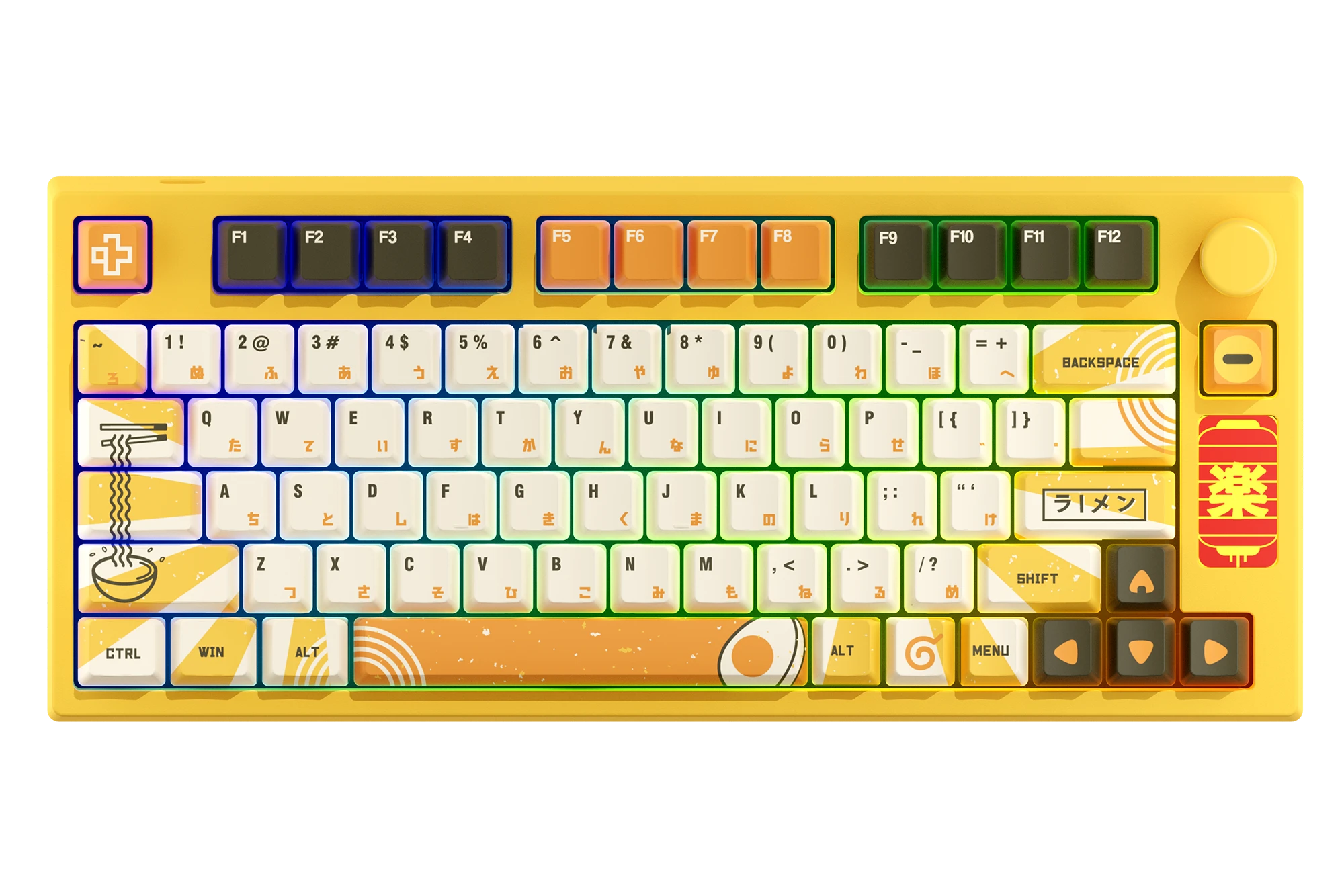 QWERTYKEY 75 RAMEN.
This aesthetic keyboard combines the useful with the pleasant, being a spectacle of color and Asian culture at every touch. Ideal for gaming enthusiasts and office professionals, it transforms routine into a vibrant artistic experience.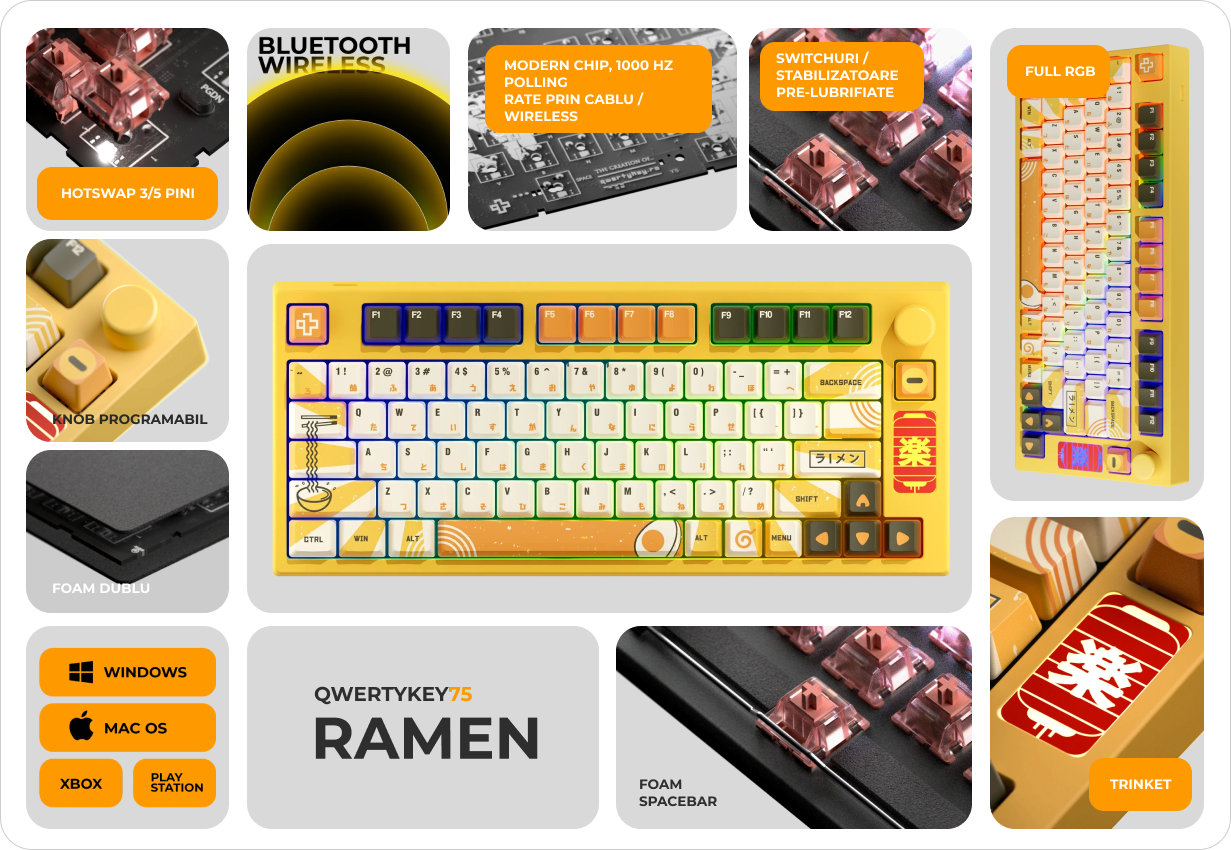 TOP FEATURES.
Fully enjoy the latest features when it comes to mechanical keyboards!
3 UNIQUE VARIANTS.
The QwertyKey team worked for more than 9 months on this project. These 3 keyboards with Unique Design of PBT DYE Sub Keycaps will give users an unforgettable experience, both the unboxing experience and the experience of using them.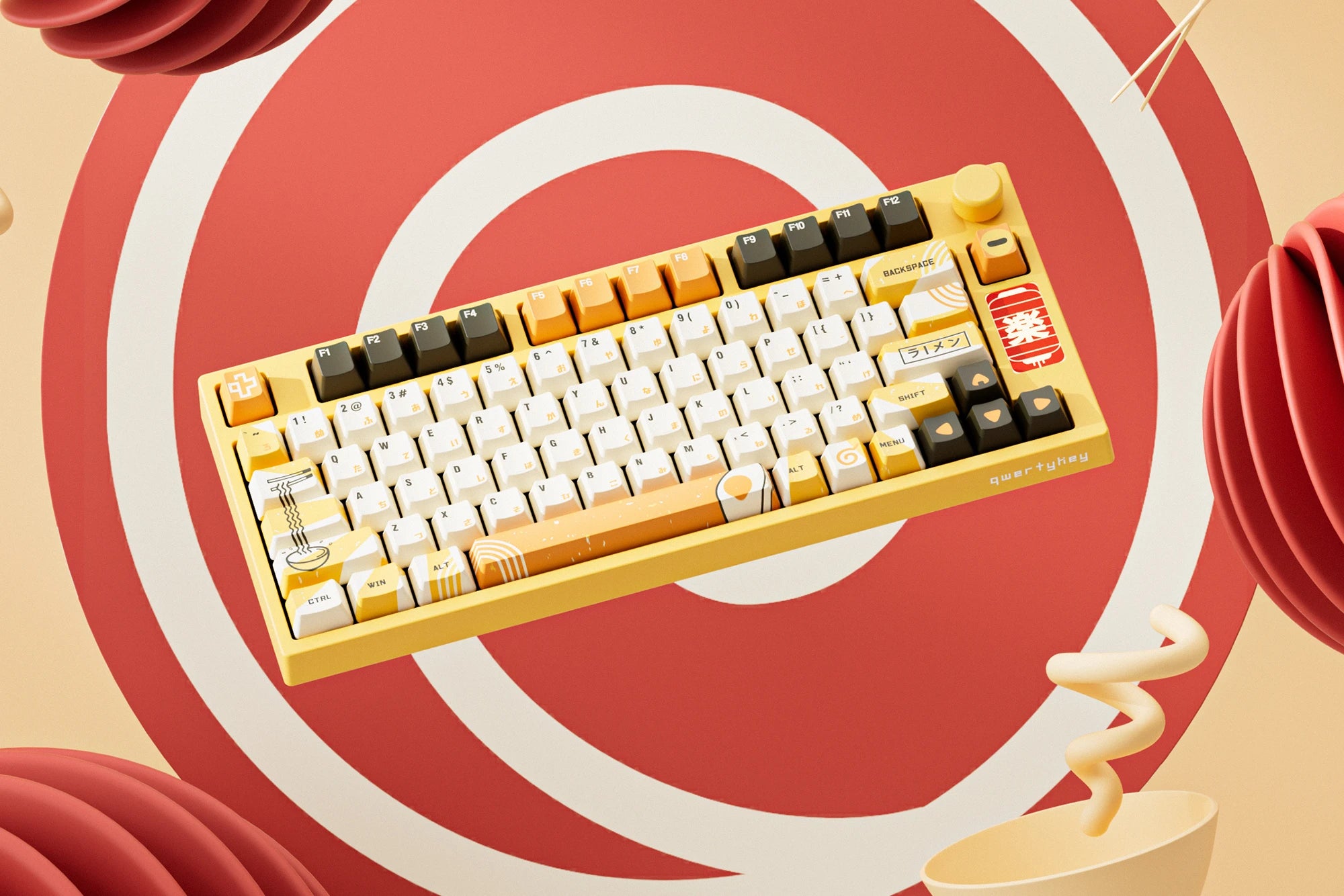 BLUETOOTH / WIRELESS.
QwertyKey75 now with Bluetooth 5.1, Wirless with dongle through the powerful 4000 Mah rechargeable battery. Enjoy your favorite activities remotely, without cables!
HOTSWAP.
You can swap out the stock switches with any 3 or 5 pin switch for the sound you want. Whether you want something louder, whether you want something silent, easy or hard to press, you can change everything according to your preferences.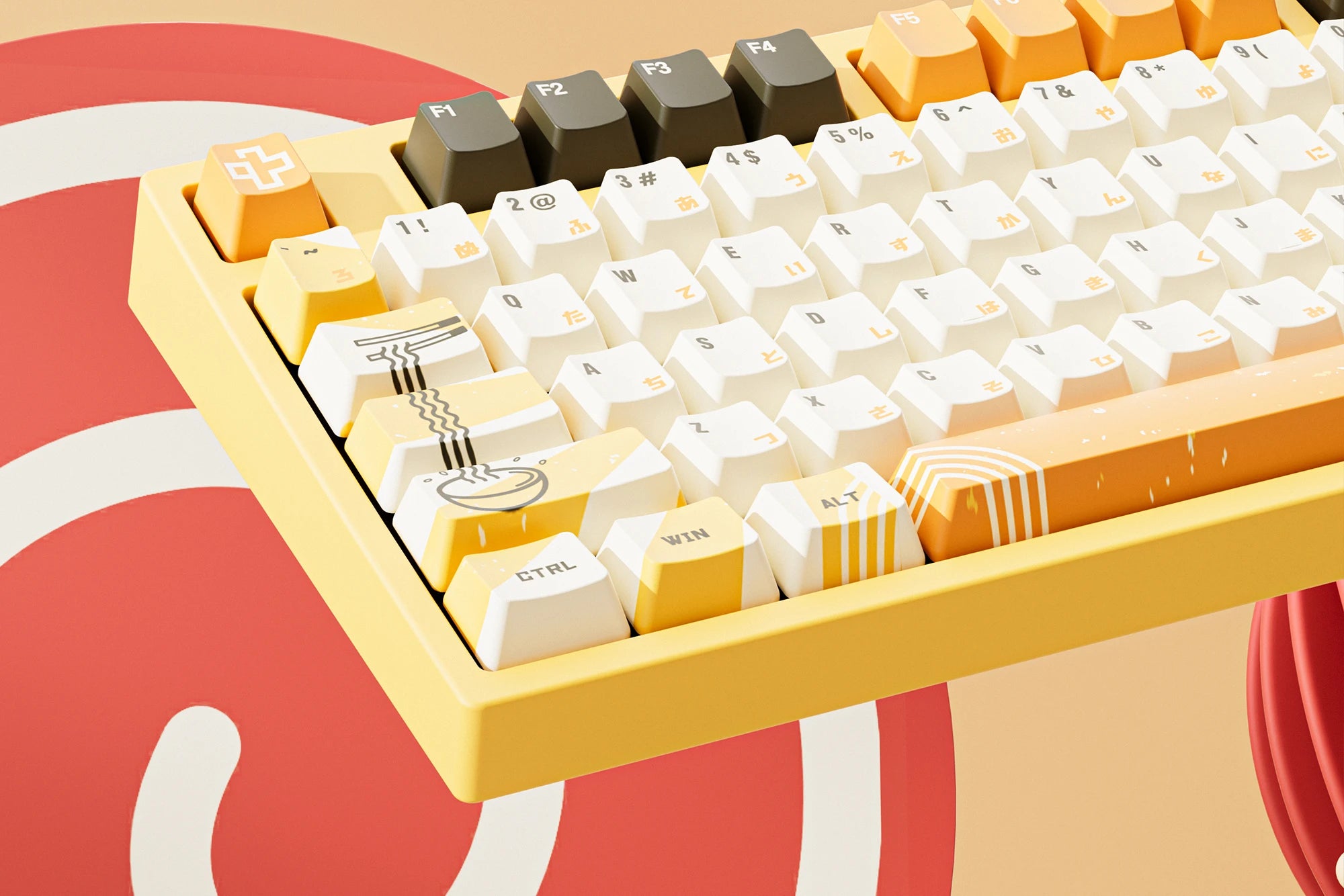 PRE-LUBRICATED STABILIZERS.
Pre-lubricated stabilizers for a more pleasant and quiet sound.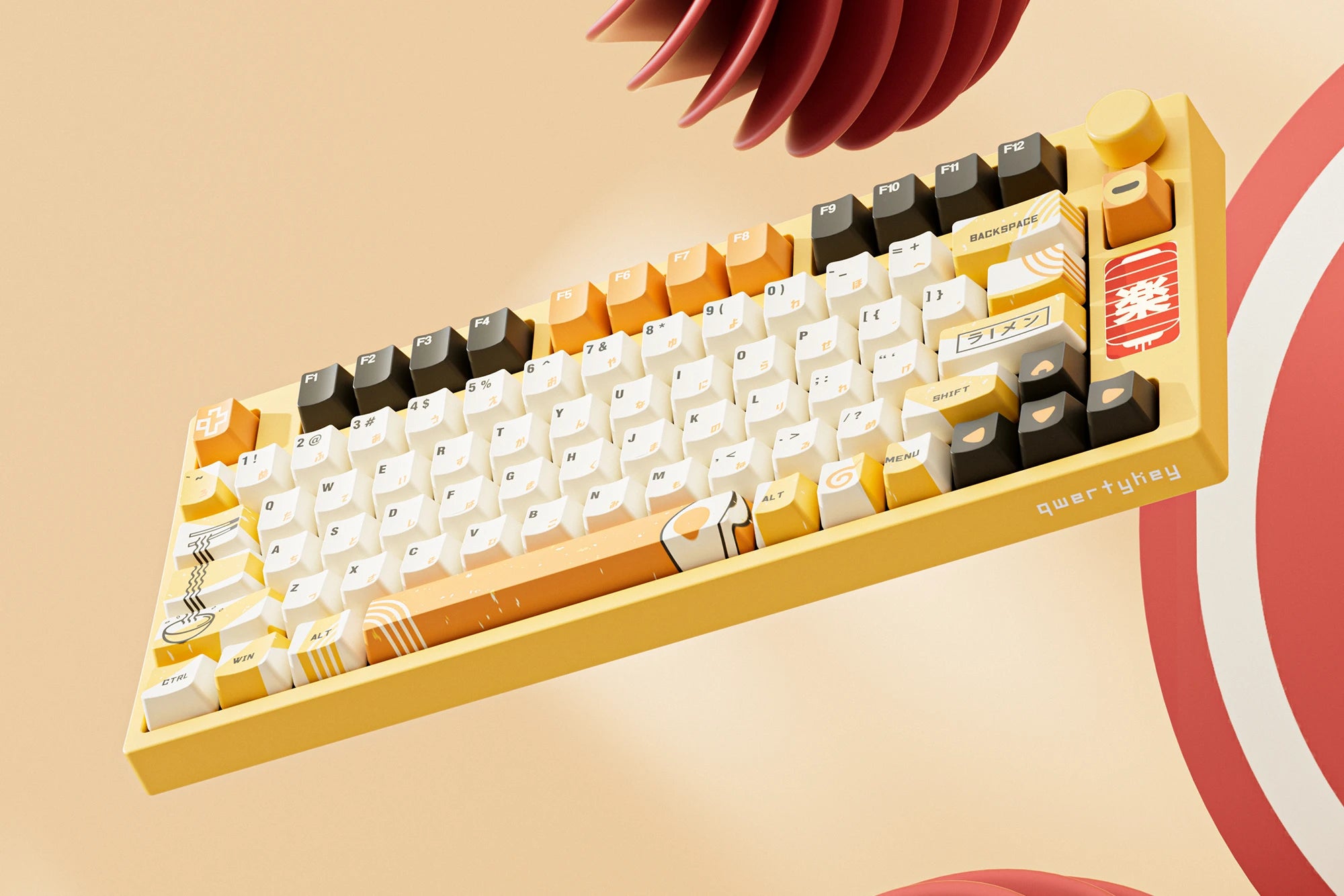 POLYCARBONATE PLATES.
Polycarbonate stock plates for a softer writing experience.
FULL RGB.
Full RGB lighting with 22 customizable lighting modes from the keyboard software.
RGB OFF.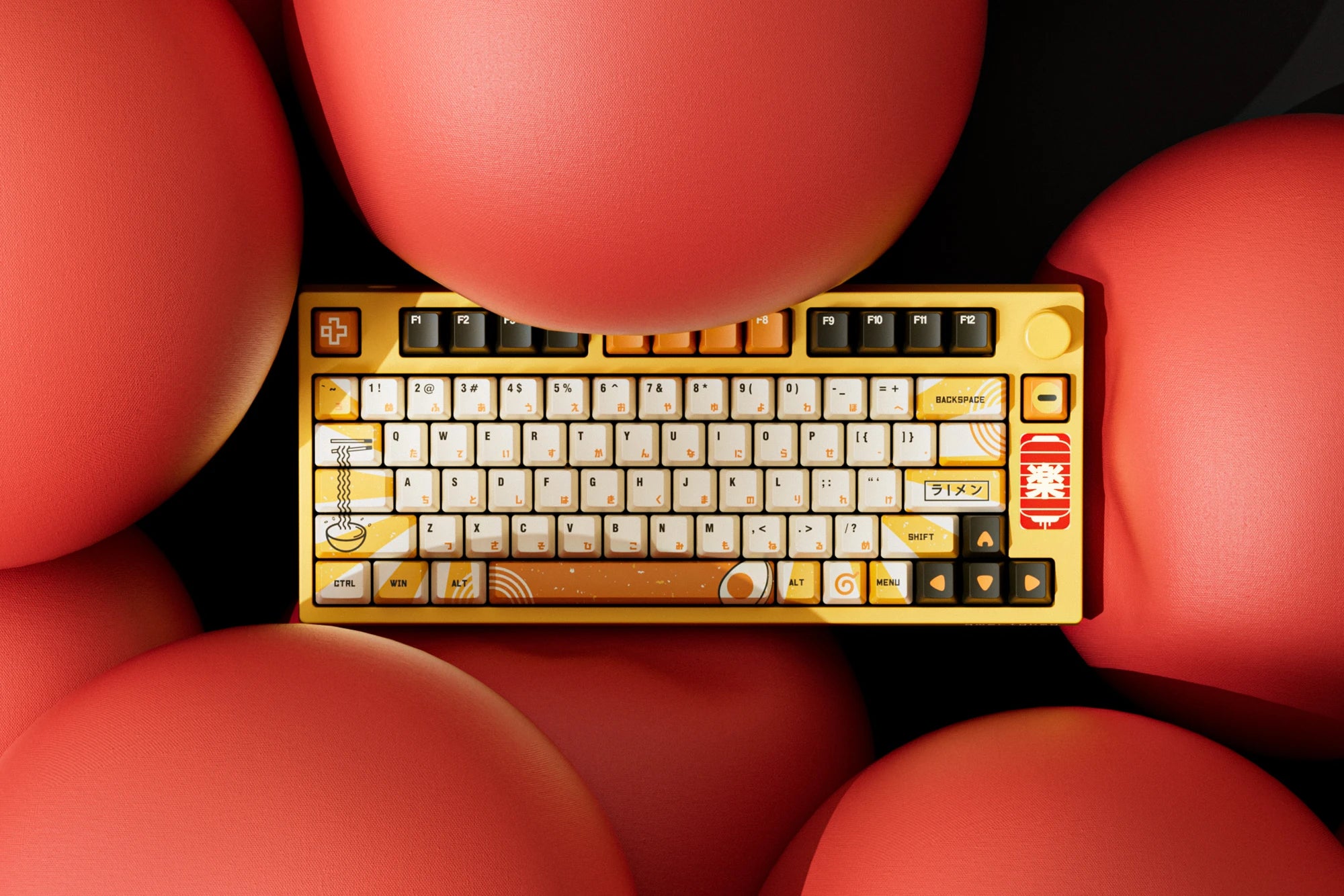 GOOD ACOUSTICS DIRECTLY OUT OF THE BOX.
The keyboard contains 2 layers of EVA foam for better acoustics. A layer of foam is between the PCB (electronic part) and the keyboard plate and another layer in its case.
PRE-LUBRICATED SWITCHES.
Switches pre-lubricated with Krytox 205 and Krytox 105 directly on the keyboard. Also the 45g bow weight for the best accuracy when it comes to gaming and beyond. Listen to the sound test!
PROGRAMMABLE KNOB.
You can program the Knob the way you want using the QwertyKey75 Personal Software. Brightness, Volume and so on. Be creative!
SOFTWARE.
Dedicated software to customize RGB and keyboard macros. Choose, set and modify from the range of light, intensity and color games. Exactly as you wish!
QwertyKey75 Ramen Bluetooth Wireless Hotswap RGB Gasket Mounted Tastatura Mecanica Gaming
Geniala
Tastatura este una geniala, perfecta pentru a intra in lumea "enthusiast" a tastaturilor. Am trecut de la un HypeX Alloy FPS cu switch-uri blue. Am vrut ceva mai custom si ceva ce sa nu sparga bugetul, iar acest QK75 Ramen, fata de celelalte modele din seria QK75, mi-a atras atentia datorita switch-urilor Akko x Gateron Pink ce au un sunet si feeling foarte placut out of the box (thonk). Scrisul pe ea este foarte placut si se aude extrem de bine.
Designul este superb si finisajul keycaps-urilor este unul premium/calitativ, se simt foarte bine la atingere (singurul downside este ca nu sunt transparente pentru iluminarea RGB).
Knob-ul de volum(programabil) este un big plus, se poate comuta usor de pe wireless pe bluetooth cu FN+1/2/3/4, o folosesc pentru munca(bluetooth) cat si pentru gaming(wireless). Dureaza 2-3 secunde pana comuta dar nu este o problema.
Experianta de unboxing este premium, ceva ce nu am mai intalnit la companiile mari precum Razer/HyperX/Logitech. Vine la pachet cu tot ce ai avea nevoie pentru ea (cablu tip C, keycap+switch puller, cateva keycaps-uri aditionale, 2 switch-uri, stickere).
Pentru cei ce nu stiu daca sa treaca la un 75% de la 100%, va asigur ca trecerea, cel putin pentru mine, a fost seamless, iar daca ai nevoie de butoanele de PGUP si PGDOWN se pot monta in locul trinket-ului cu cele 2 switch-uri aditionale din cutie.
Software-ul lasa putin de dorit, se misca putin greoi, dar ai nevoie de el doar la inceput. It gets the job done.
Overall sunt foarte multumit de alegere si pentru cine se gandeste intre cele 3 variante de QK75, recomand ramen pentru switch-urile thonk.
10/10
Superba!
E a doua tastatura de tip QK 75 pe care o comand, mai am un Carpathian, raport calitate pret imbatabil, acustica foarte buna, exact ce mi am dorit de la o tastatura, orice switch ai pune pe ea, se adapteaza si se ridica la standardele asteptate. Urmeaza si QK 75 Terminal curand, sa completez colectia, un produs ca multe altele de la Qwerty care isi merita banii ( din punctul meu de vedere, desigur ).
Recomand
O tastatura cu personalitate si finisaje premium.
Keycap-urile au o textura fina si au un aspect retro.
Switch-urile(tactile) ofera un feedback placut.
Super multumit si astept cu nerabdare urmatoarea comanda.
Keep up the great work!