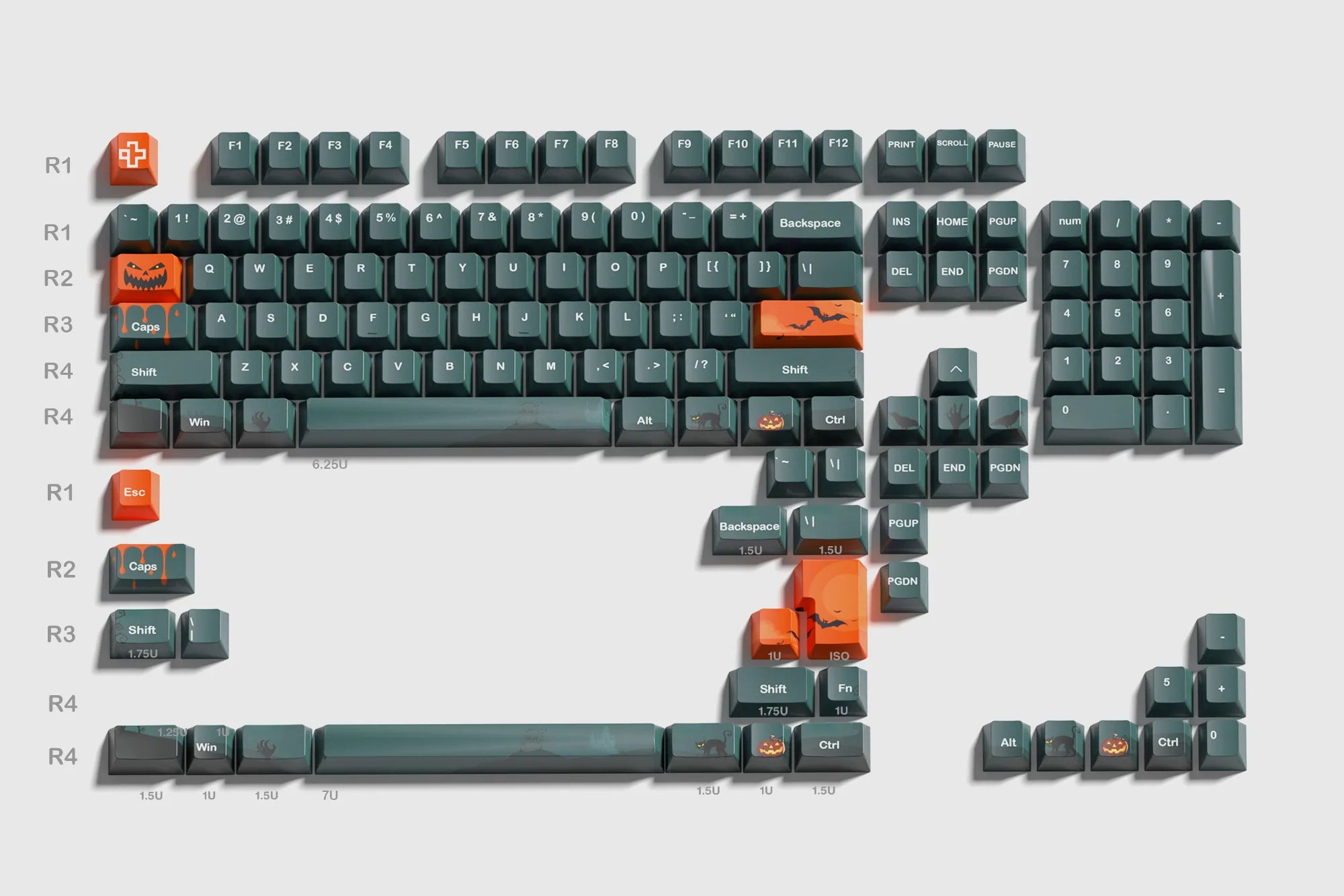 QwertyKey Halloween LIMITED EDITION key set Cherry profile Material PBT
---
Technical specifications:

Product: QwertyKey Halloween keyboard key set (keycaps)
Number of keys: 134 ANSI + ISO (contains keys like shift 1.75U + 1U Alt, Ctrl, FN, 7U spacebar - see last picture)
Color: Dark Green - Orange
Material: PBT, 1.55mm thickness
Profile: Cherry
Light Translucent: Can't stand
Characteristics:
This set of keycaps is the Cherry profile.
It can be used for most switches such as: Cherry MX, Gateron, Kailh and all keyboards that support MX styles.
* Captions not aligned. There is a possibility that some legends applied by this technology suffer small misalignments up to 0.25mm in either direction
* Slight blur. Some captions may be slightly blurry around the edges due to this production process
* Micro imperfections. Small imperfections possible on the color wall or other surfaces of the keycaps
* Other traces. Other marks left on the back by the drains due to the plastic injection process. They are not visible once the keys are placed on the keyboard
Feedback Set Taste Halloween
Design unic si foarte intersant. PBT este materialul meu favorit cand ma uit dupa un set de taste asa ca nu am nimic de reprosat asupra lui. Imperfectiunile sunt minore sau nu exista pe majoritatea tastelor. Imi place mai ales ca este primul set de taste de pe site care vine in editie limitata (din ce stiu cel de Craciun revine in stock in fiecare iarna). Setul arata foarte bine mai ales pe tastaturi 60/65% (preferinta personala, mi se pare ca o tastatura mai "mica" face cumva design ul sa para mai dragut as putea spune).Per total sunt foarte multumit, nu am neaparat ceva de reprosat.