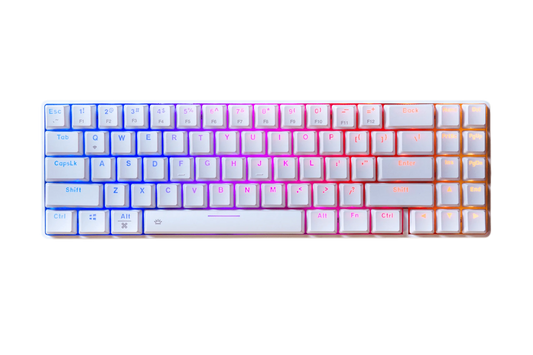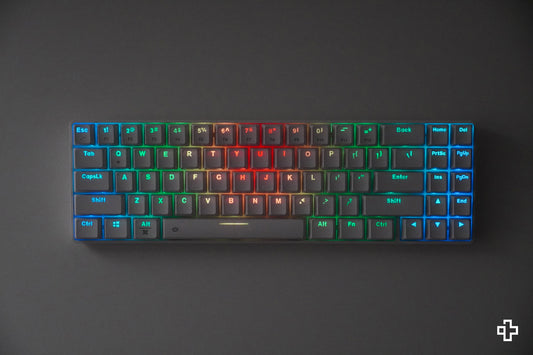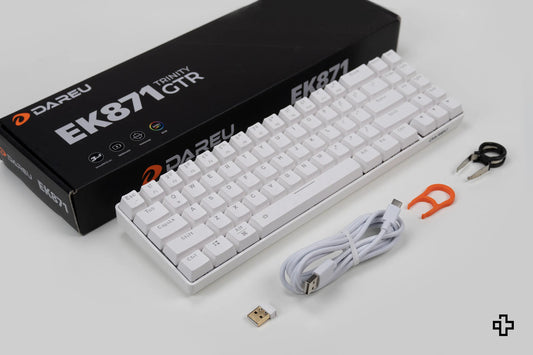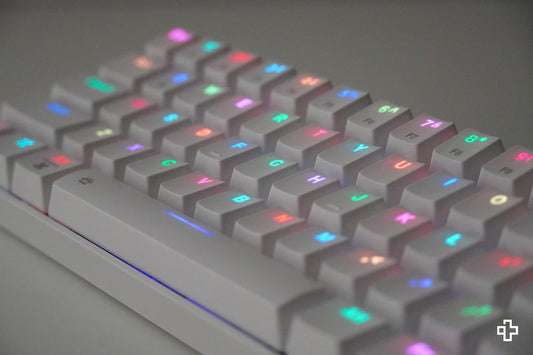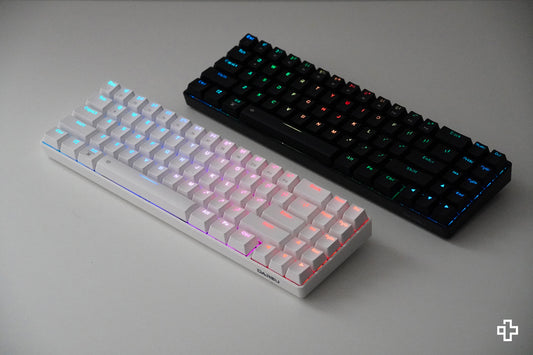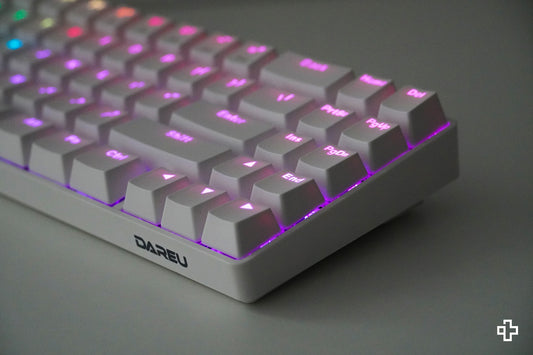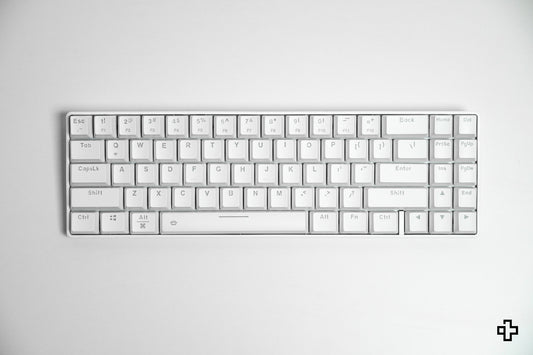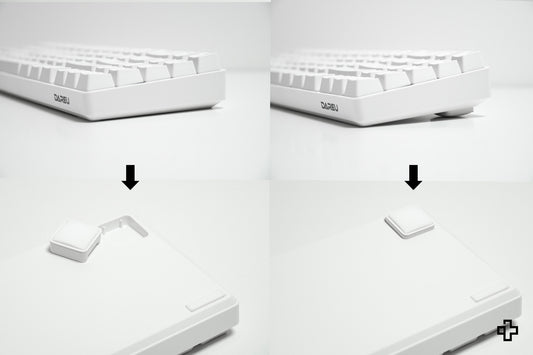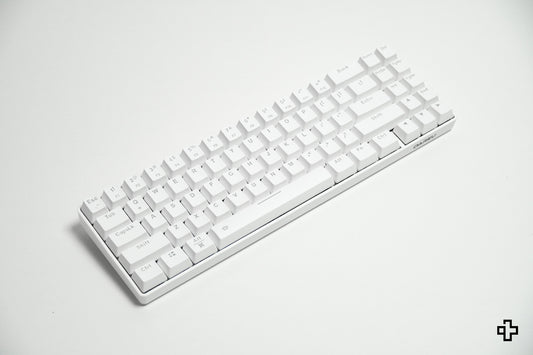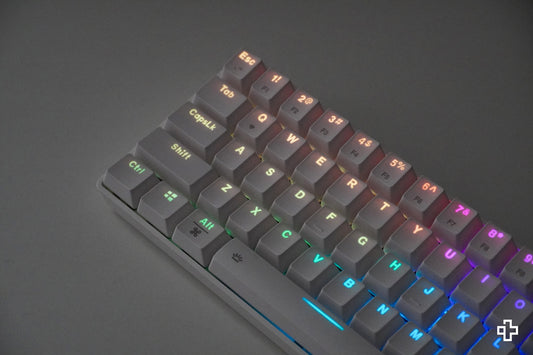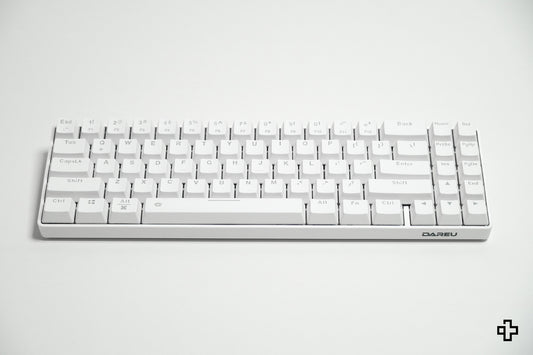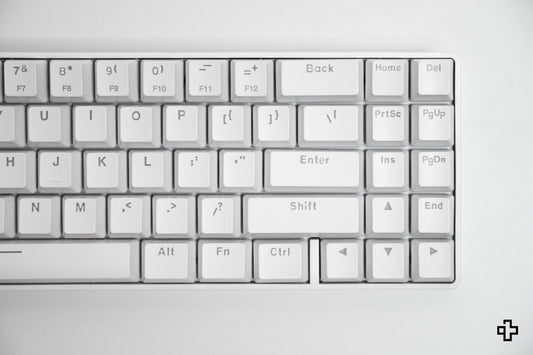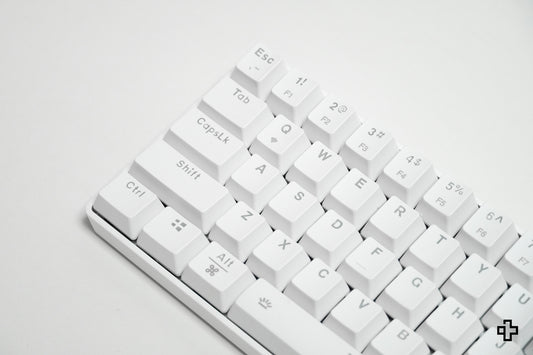 Dareu EK871 Hotswap RGB Mechanical Gaming Keyboard
Thank you! As soon as it is back in stock, you will be notified by email!
Error. Please try again!
Notify me by email when it's back in stock!
The package contains:
1 Dareu EK871 White keyboard
1 USB-C cable
1 Keycap/Switch puller
1 Wireless dongle
Brand: DAREU
Model: EK871 White
Backlighting: Full RGB
Removable magnetic feet for height adjustment
Switches: Dareu Pre-Lubricated Red/Brown
The switches are factory lubricated
Pre-lubricated stabilizers
HOTSWAP: Yes, this version is 5-pin hotswap.
Software: YES
Case color: White
Number of keys: 71
Key material: ABS
Connection: Via USB 2.0 cable to USB TYPE-C, Bluetooth and Wireless
Weight: ~670g
For: Mac OS/Windows/Android
O tastatura cu potential.
Initial nu mi-a placut tastatura, nici switch-urile (brown, o chestie de gusturi) nici keycap-urile fiind abs. Am schimbat switch-urile cu niste Akko CS Jelly Black(stock, nelubrifiate, am pastrat stabilizatoarele, sunt lubrifiate si suna super bine) si keycap-urile cu Qwertykey Vitamin (pbt), foam intre carcasa si pcb si foam intre faceplate si pcb. Acum suna absolut divin. Pentru cei interesati faceplate-ul este din metal, aluminiu presupun (si grija cu el sa nu-l zgariati), si mare atentie la firul de la baterie, este lipit de pcb, nu are un conector care poate fi desfacut. Tot procesul a fost foarte usor, tastatura se dezasambleaza fara efort. Totul functioneaza impecabil, de la soft la conexiunea wireless. V-am spus ca acum suna DIVIN? happy modding guys!
Budget meh
Eu am comandat varianta cu switch-uri brown. Ele ar trebui sa fie pre-lubrifiate, or fi, nu am verificat insa: sunt cam scratchy, au stem wobble, variaza sunetul de la tasta la tasta destul de mult si au spring ping.
Keycap-urile sunt meh iar datorita stem wobble-ului imi ofera o senzatie de nesiguranta atunci cand tastez.
O alta chestie minim enervanta este ca textul printat pe partea din spate unde este toggle-ul intre wired, 2.4ghz si bluetooth are un offset stupid si nu se aliniaza cu textul in nicio pozitie. Practic cand toggle-ul este pus pe 2.4ghz el indica bt 1. Dongle-ul nu are un loc de depozitare undeva pe tastatura asadar grjia mare cu el.
Pozitivele: RGB-ul ok, wireless prin dongle-ul de 2.4ghz este impecabil, software-ul functioneaza perfect, hotswap 5 pini, bateria longeviva cu rgb minimal, nu am observat vreun lag in jocuri. "Piciorusele" pentru reglarea inclinarii sunt magnetice. Si in ultimul rand arata foarte bine pe birou fiind compacta si "frumusica".
Simt cumva ca in aceasta catergorie de pret ar fi trebuit sa fie un pic mai bine facuta aceasta tastatura. Totusi cumva hotswap rgb si wireless la pretul asta... parca merita? Sincer i-as da retur dar mi-e rusine. Ii voi schimba switch-urile, keycap-urile, stabilizatoarele si voi pune si ceva material fonoabsorbant poate se imbunatateste situatia. Daca nu ar fi fost hotswap in 5 pini probabil ca as fi comparat-o cu ceva de la redragon (sad I know).
Review
(BEST BANG FOR BUCK)
Reviewul il scriu de pe tastatura, am modelul cu switchuri red, sunetul switchurilor si stabilizatoarelor este extraordinar, tastele se apasa super smooth, iluminarea RGB este buna, parca putin cam palida, conexiunea pe 2.4 ghz este foarte buna si stabila, nu simt pic de lag in jocuri.
Una peste alta, o tastatura excelenta, constructie foarte buna, grea, simti ca ai ceva solid in mana, sunetul este incredibil, merita toti banii.
Review
Este super buna! Conexiunea cu dongle e chiar exceptionala! Switchurile si stabilizatoarele sunt chiar foarte bune si lubrifiate bine.
Luminile sunt puternice si foarte vibrante! Se merita banii!